Koufonissia - Cyclades (Greece)
Koufonissia islands. Koufonissia (Koefonissia) are two small islands in the Cyclades, they lie at the southeast of the island of Naxos, west of Amorgos and north of Ios. They lie next to each other, with a distance of only 200 meters (650 ft) between them.
The Pano (upper) Koufonissi and Kato (lower) Koufonissi belong to the Small Cyclades, which also include Keros, Schinoussa, Iraklia and Donoussa. All the islands are more or less inhabited, except Keros. The Koufonissia islands cover an area of 10 square kilometers (4 mi2) and are worth a visit. The natural environment, the beaches and the sea are beautiful and the people are very friendly and welcoming.
Pano Koufonissi covers an area of 5.7 square kilometers (2 mi2). About 350 inhabitants live on this island. The main occupations of inhabitants are fishing and tourism. There are also some farmers and ranchers who mostly carry out their work for their own consumption.
There is only one village on Pano Koufonissi, it is a characteristic Cycladic village with white washed houses and narrow alleys. It is a picturesque village with a beautiful beach (Ammos), cozy taverns, and cafeterias. There is also an ATM.
The Koufonissia are ideal for a day trip from one of the other Cyclades islands. A visit to them is a wonderful experience. People seeking rest can stay more days and enjoy the quietness. You will discover places that are pure and unspoiled. A short walk can take you to beautiful sandy beaches and small coves. The most beautiful beaches of Koufonissia are Charokopos, Chontros Kavos, Pori and Platia Pounta, which is also called Italiana. It is unnecessary to have a car on the island. You can walk from one side to the other side of the island, a distance less than 4 kilometers (2.5 mi).
Kato Koufonissi covers an area of 4.3 square kilometer (1.5 mi2). It is uninhabited, except for a few people who spend summer here. The old village (Panagia) is practically deserted. In the summer you will encounter a few vacationers here.
From Pano Koufonissi you can sail in summer shuttle boats to Kato Koufonissi. On Kato Koufonissi are several beautiful beaches and walking trails. There is also a taverna called Venetsanos.
Boat trip Naxos, Iraklia & Koufonissia
Boat trip Naxos Iraklia Koufonissia - ©JustGreece.com
Photo Gallery Koufonissia - Photos of Cyclades
Sights Koufonissia
The best beach is the beach of Koufonissia Pori. This is in a small circular bay.
The islet Glaronissi. There are daily boat trips to Glaronissi where mostly nudists seek privacy.

Accessibility to Koufonissia
By boat from Piraeus.
By boat from Naxos, Amorgos, Paros.
Text: Yorgos and Wendy Nikolidakis - Text edited by Katrina Butzer
Weather forecast Koufonissia
Saturday

31°C
Sunday

31°C
Monday

29°C
Tuesday

27°C
Wednesday

25°C
Thursday

25°C
Average temperature Koufonissia
Koufonissia in other languages


Koufonissia: Where on the map is Koufonissia located?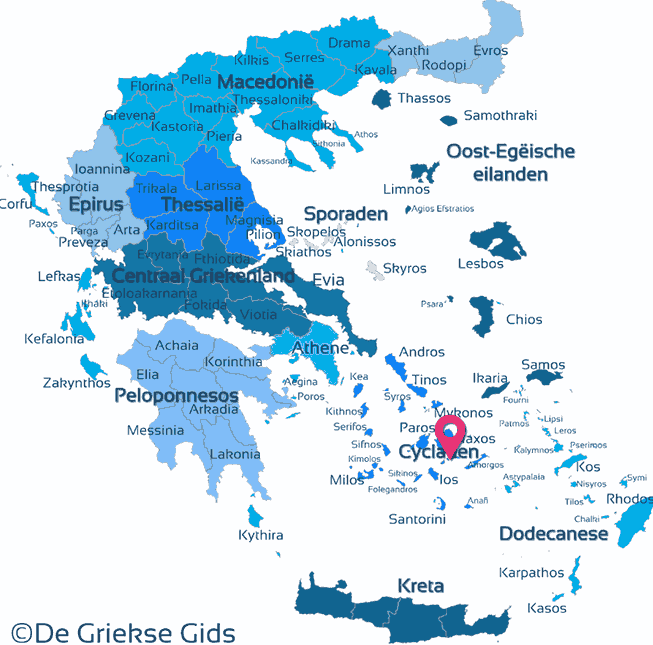 The map of Koufonissia - ©JustGreece.com