Cyclades - Greek Islands (Greece)
Cyclades (Kyklades). Cyclades is a group of 56 islands and islets scattered across the deep blue Aegean Sea. A visit to the Cyclades islands is seen by many people as a visit to the ideal Greek holiday resort. The name is originated from the word 'Kyklos' that means 'Cycle'. According to tradition, these are the islands that form a circle (Cycle) around the sacred island of Dilos (Delos).
Since prehistoric times, the Cyclades islands have been inhabited. The rich history of these islands is illustrated by the presence of antique holy temples standing side by side with Byzantine churches, Christian churches and Venetian fortresses.

Since ancient times, the time the Cyclades were very difficult to reach, they attracted with their charm many people. They developed one of the most important cultures: The "Cycladic" culture. (3000-1000 BC.) Despite the similarities between the islands; bright sun, blue sea, scenery and sober architecture, each island retains its own characteristics. This last thing, may persuade the visitors to visit the islands separately. Of the 56 Cyclades islands only thirty are inhabited. In general, the islands are dry, rocky and have little water and greenery, except Naxos, this is called a green island. All islands have their own classic Cycladic style. The capital of all the Cylades is now Ermoupolis, the capital of Syros. The most popular Cyclades are Santorini, Mykonos, Paros, Ios and Naxos
The most known Cycladic islands in alphabetical order are:
Amorgos, Anafi, Andros, Antiparos, Delos, Donoussa, Folegandros, Ios, Iraklia, Kea, Keros, Kimolos, Koufonissia, Kythnos, Milos, Mykonos, Naxos, Paros, Santorini, Schinoussa, Serifos, Sifnos, Sikinos, Syros, Thirasia, Tinos
Photo Gallery Cyclades - Photos of Cyclades
Map of Cyclades
Of Click on the map of the Cyclades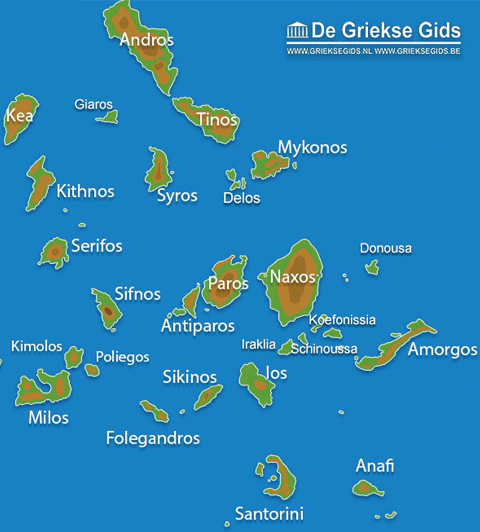 Map of Cyclades ©JustGreece.com
Weather forecast Cyclades
Saturday

14°C
Sunday

16°C
Monday

17°C
Tuesday

18°C
Wednesday

20°C
Thursday

21°C
Average temperature Cyclades
Short history of the Cyclades
The first inhabitants of the Cyclades were the Phoenicians, the Kares and the Leleges. (7500 to 6500 BC). In the Cycladic period (3000 to 1000 BC.), the people were already working with bronze, stone and clay. They made weapons, tools, cookware, jewellery, sacred statues, vases and artwork. The most famous art expressions that were made at that time are the "Idols" (figurines of marble). After 1500 BC the Dorians came, the consequence was less prosperity in the Cyclades, but the boom came back in the sixth and seventh centuries BC. At that time trade was developing and new colonies were settling everywhere in the Aegean sea. The centre at that time was the holy place of Dilos (Delos). Later, the Cyclades were occupied by the Persians, this was a good opportunity for all Greeks to work together and fight together with the rest of the Greeks against the Persians. The Byzantine era was a dark time, because the islands were often attacked by pirates. From 204 the Cyclades fell for three centuries under the Venetian occupation. In those days the Cyclades were called "Le Ducat de Naxos." After the attacks of pirate Barbarossa in 1537-1538, the Cyclades were totally ruined, making them easy prey for the Turks, who have dominated the island from 1580 to 1617. During the occupation of the Turks, the Cycladers did have privileges, Turks allowed them to trade and develop a naval power. Sinds 1830 the Cyclades have belonged again in Greece.
Text: Yorgos and Wendy Nikolidakis - Revised by Maxine van Hoften Gee
Photos Cyclades - Cyclades pictures
Cyclades in other languages


Cyclades: Where on the map is Cyclades located?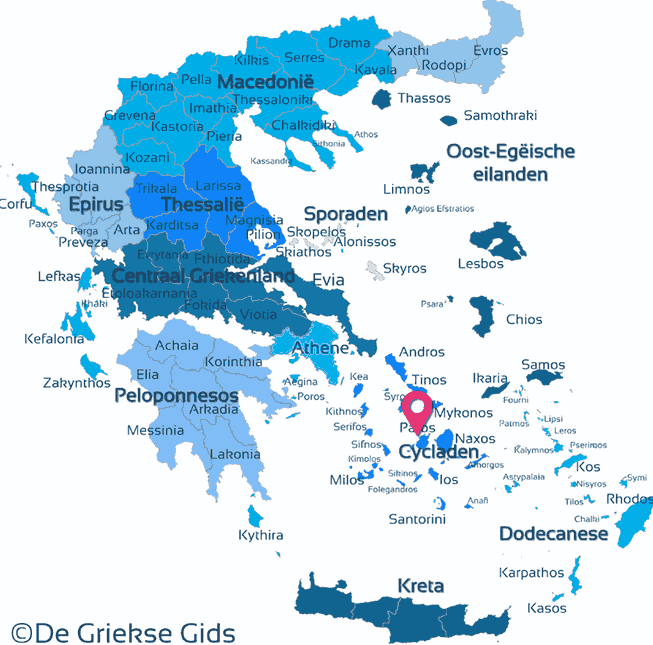 The map of Cyclades (©JustGreece.com)