Sporades - Greek Islands (Greece)
Sporades. The Sporades are Greek islands in the Northwest of the Aegean Sea. These include the islands of Skopelos, Alonissos, Skiathos and Skyros and the smaller islands Kyra Panagia and Peristera. These islands are located east of Pelion and north of Euboea (Evia). The word 'Sporades' means 'far apart' or 'here and there'. Think of the English word 'sporadically' which is derived from the Greek language and means 'scattered'.
According to the ancient Greeks, all the islands around the sacred island Delos were the Cyclades. All the others were the 'Sporades'. There were the Thessalian Sporades, which are the current Sporades (Skiathos, Skopelos, Alonissos, Skyros), the Thracian Sporades (Thassos, Lemnos/Limnos, Samothrace), the Western Sporades (Hydra, Spetses, Saronic Gulf Islands etc), the Eastern Sporades (the islands close to the coast of Turkey such as Samos, Chios and Lesbos) and the Southern Sporades (the current Dodecanese).
Sporades that we know today are the Thessalian Sporades (Magnesian Sporades), Magnesia was and is the area in Thessaly where Pelion belongs. The Sporades consist of nineteen islands and islets. Eight of these are inhabited. Skyros is the largest island with an area of approximately 206 square kilometers. Skopelos is 95 sq. kilometres, Alonissos 64k sq. kilometres, Skiathos 47 sq. kilometres and Skyros 209 sq. kilometers.
Text: Jorgos and Wendy Nikolidakis - Text edited by Maxine van Hoften
Photo Gallery Sporades - Photos of Sporades
The map of the Sporades islands
Click on the islands on the map and discover the Sporades.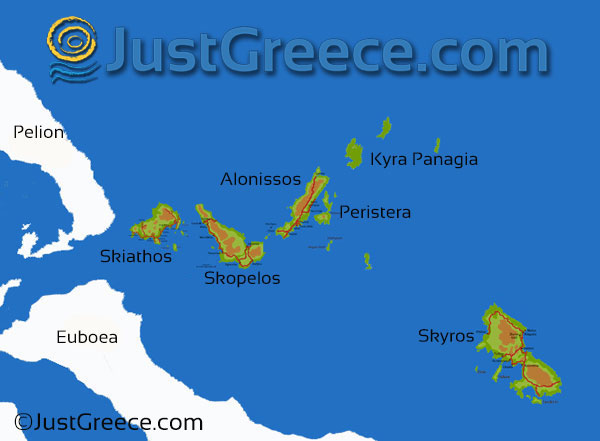 Sporades islands - Click on the map (©JustGreece.com)
Weather forecast Sporades
Saturday

11°C
Sunday

14°C
Monday

14°C
Tuesday

15°C
Wednesday

17°C
Thursday

19°C
Average temperature Sporades
Sporades in other languages


Sporades: Where on the map is Sporades located?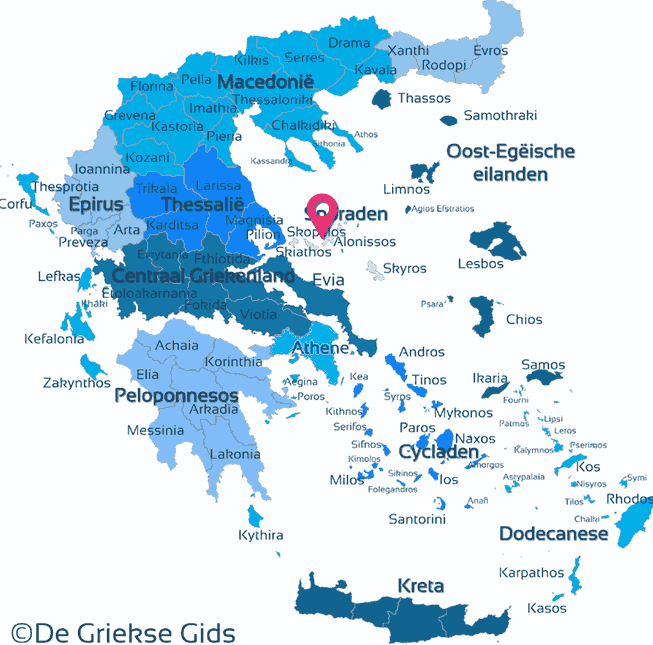 The map of Sporades (©JustGreece.com)