Spetses - Saronic Gulf Islands (Greece)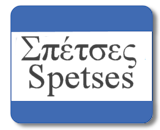 Spetses. Spetses is a historic island, the famous Greek heroine Bouboulina Laskarina originated from here. Upon arrival at the port, you will notice that this island is "alive". There are many cafes and shops, everywhere it is quite busy. Around the harbor, but also outside the port, everywhere are canons, these canons were used by the Greeks in the 19th century in their struggle against the Turkish occupation. Exactly behind the harbor, on a small distance, is the house of Bouboulina which today has been transformed into a museum and can be visited. Around the port are many terraces and squares as well as in the narrow streets. There are many shops, souvenir shops, jewelers, bakers, snack-bars, etc. In the center of the town you won't see any cars driving. The are horses carriage rides, a typical feature of this island. There are also a lot of mopeds, unfortunately these provide enough for some (noise) nuisance. What certainly is worth, is a walking towards the lighthouse. This hike takes about 25 minutes and is very nice, during the walk wou will see several pebble beaches, beautiful houses, bustling ports and beautiful squares. The houses on Spetses have a certain aristocratic style, which proves that the inhabitants of the island were rich people. All of these houses have kept their original traditional style and are beautiful behold.
Spetses, which at the entrance of the bay Argos is located, was built around 2500-2000 v. Chr founded. This is derived from the remains of the walls, statues and clay vessels that were found in Agia Marina. In ancient times, the island was known as Pityoussa, perhaps because it was covered with pine trees. Today, the island is known for its distinctive architecture of the stately mansions and the hills, some of which are still covered with pine trees. There are almost no cars on the island, most islanders prefer it to move around by bicycle or horse-drawn carriage across the island. The most popular beaches on the island are Agii Anargyri and Agia Paraskevi.
Photo Gallery Spetses - Photos of Saronic Gulf Islands
Tuesday

15°C
Wednesday

17°C
Thursday

19°C
Friday

18°C
Saturday

18°C
Sunday

19°C
Average temperature Spetses
Spetses in other languages


Spetses: Where on the map is Spetses located?

The map of Spetses