Telendos - Dodecanese (Greece)
Telendos. Telendos is a small island situated just opposite the villages Myrties and Masouri on the Greek island of Kalymnos. Telendos is separated from Kalymnos by a sea channel which is about 700 meters wide (less than half a mile). Telendos was part of the neighboring island Kalymnos. After a heavy earthquake a large strip of land dissappeared into the sea, separating Telendos from the rest of the land. This happened in the year 535 AD. Part of the old city which disappeared into the sea, is still visible underwater between Myrties and Telendos.

Although Telendos is a very small island, it has a high peak up to 460 meters high. This rocky mountain is nowadays used by sport climbers for their sport. On the island are several small beaches, the coastline is ideal for snorkelers.
The few residents live in the small cozy fishing village with its nice taverns and bars. It's not crowded at all, the contrast with the other side where it's very crowded is unbelievable!
On Telendos are some small hotels and apartments. On the island are no roads, so it is completely car-free. There are many hiking trails which means the island is popular among people who enjoy hiking. In the southern part of Telendos are remarkably many pine trees. On the island are also some ruins from the Byzantine era.

Connections to Telendos: There are shuttle boats that sail a couple of times every day and connect Telendos with Myrties. We took the boat 'Theofilos' of the friendly Captain Antonis Louloudias.
Photo Gallery Telendos - Photos of Dodecanese
Short impression Telendos
Dronevideo from the island Telendos - Edited by Sem Eissens - ©JustGreece.com
Text: Jorgos and Wendy Nikolidakis - Text edited by Katrina Butzer
Weather forecast Telendos
Saturday

15°C
Sunday

17°C
Monday

17°C
Tuesday

18°C
Wednesday

19°C
Thursday

21°C
Average temperature Telendos
Telendos in other languages


Telendos: Where on the map is Telendos located?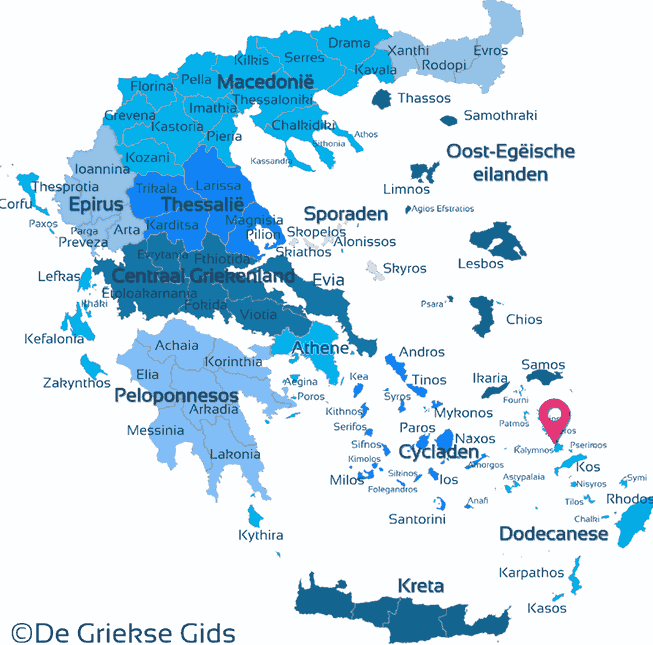 The map of Telendos - ©JustGreece.com