Kavala - Macedonia (Greece)
Kavala. The prefecture of Kavala has been inhabited since prehistoric times. The first inhabitants of the area around Kavala were Thracians. Then in the seventh century BC came the Eretrians (from Euboea), then the Ionians and the Athenians. The former name of the town was Neapolis (New Town). Another important town in that period was Filipoi (Philippi). They were prosperous towns as a result of the gold mined in the Pangeo Mountain.
In the year 49, the Apostle Paul established the first Christian church in Europe. In 396 the town of Neapolis was completely destroyed by the Goths. Neapolis was rebuilt in the 5th century, but with the name Christoupolis.
During the Byzantine period, the town had great prosperity. In 1380 the Turks who occupied the country came and the renamed the town Kavala. In the 16th century Kavala again experienced prosperity. In 1913 Kavala was liberated and again belonged to Greece.
Kavala town is the capital of the prefecture. It is built amphitheatrically at the foot of the mountain Simvolo. Many characteristics of its old prestige remain. The Kamares, the house of Mehmet Ali and Turkish building Imaret are definitely worth a visit.
To get a panoramic view of the city you should visit Prophet Ilia church at the top of the hill. Also there are very nice beaches such as Kalamitsa, Nea Iraklitsa, Perigiali and Nea Peramos.
Photo Gallery Macedonia - Photos of Macedonia

Sightseeing tips Kavala
Kavala: The district Panagia with traditional houses and cobbled streets and alleyways.
Eleftheroupolis: This small town lies at the foot of the Pangeon Mountains, 16 kilometers (10 mi) southwest of Kavala. Visit the gold mines of the past.
Nea Peramos: This is one of the most popular tourist resorts of the region. It is located 18 kilometers (11 mi) southwest of Kavala and was originally built by Greek refugees from Asia Minor.
Filipoi: The historic town Filipoi, 17 kilometers (10.5 mi) northeast of Kavala. Visit the village of Krinides' Ancient Theater (capacity 8,000 people) and the archaeological museum.
Chrisoupolis: on the banks of the Nestos River, 31 kilometers (19 mi) from Kavala. The forested environment is magnificent.
Keramoti: The beautiful beaches of Keramoti (44 kilometers/27 mi southeast of Kavala).
Nea Iraklitsa: If you like adventure, plan to climb the red rocks.
How access to Kavala
From the airport of Kavala it is a 35 kilometer (22 mi) drive to the city of Kavala. There are daily flights from Athens (1 hour flight). There are direct (charter) flights from several European cities. Kavala is accessible by boat from Piraeus and Rafina.
Text: Yorgos and Wendy Nikolidakis - Revised by Katrina Butzer
Saturday

11°C
Sunday

11°C
Monday

13°C
Tuesday

15°C
Wednesday

15°C
Thursday

18°C
Average temperature Kavala
Kavala in other languages


Kavala: Where on the map is Kavala located?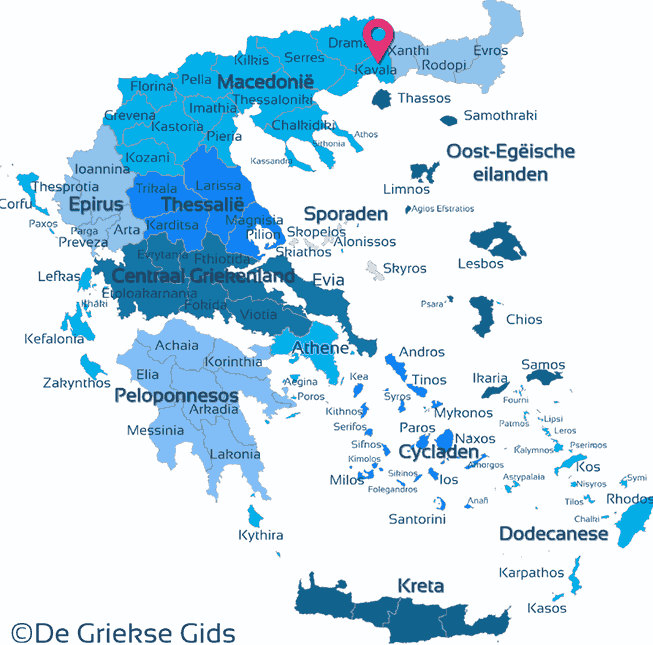 The map of Kavala - ©JustGreece.com