Rodopi - Thrace (Greece)
Rodopi. Rodopi is the central prefecture of the Greek district Thrace. To the north it borders Bulgaria, to the west the prefecture of Xanthi, to the east the prefecture of Evros and to the south the Aegean Sea. The prefecture, and also the name of big mountain in the north, was named after a woman named Rodopi. According to Greek mythology she was daughter of Ocean and Tithia.
The contrast between the Rodopi mountain mass in the north and the large plain of Komotini in the south is one of the most striking features of this area. The nature is very diverse with mountains, canyons, rivers, valleys, plains, but also beautiful beaches. Of the approximately 2500 sq.km. (965 sq. mi.) area, 828 sq.km. (320 sq. mi.) is mountainous, 828 sq.km (320 sq. mi.) is hilly and 900 sq.km. (347 sq. mi.) is flat. Many streams spring from the mountains in Rodopi and flowing south toward the Aegean Sea.
Also, the climate between the north and south is different. In the north, in the mountains, the climate is continental, while further in the south it becomes Mediterranean.
Photo Gallery Rodopi - Photos of Thrace
Sights Rodopi
Ancient Maronia that was founded by colonists from the island Chios in the 7th century BC. Excavations brought to light an ancient theater, a sanctuary, buildings, fortifications, walls and more.
Byzantine Maronia: Once it was a prosperous harbor. Excavations revealed many ecclesiastical buildings, the atrium of the early Christian Basilica and more.
The municipal park of Komotini.
The Nimfea (Nymphea) forest is very beautiful. According to Greek mythology, Nymphs used to live here. Here you will also find a Byzantine fortress that was built to protect against barbarian invasions.
The Archaeological and Ethnological Museums of Komotini.
Anastasioupolis - Peritheorion: located near Lake Vistonia, a fortification.
In the village Mischos, the remains of the Byzantine city Mosinoupoli (formerly the city was called Maximinianoupoli) are found.
Papikios Mountains: On the border with Bulgaria are the Papikio Mountains. This was once a center for Byzantine monks and it flourished until the 15th century.
Sapes: a traditional town surrounded by pines and oak, famous for its carnival.
The rich flora and fauna at the lakes Vistonida and Ismarida.
The Meteora of Thrace: imposing rocky mountains in the northwest of Komotini.
Text: Jorgos and Wendy Nikolidakis - Text edited by Katrina Butzer

Saturday

11°C
Sunday

11°C
Monday

13°C
Tuesday

15°C
Wednesday

15°C
Thursday

18°C
Average temperature Rodopi
Rodopi in other languages


Rodopi: Where on the map is Rodopi located?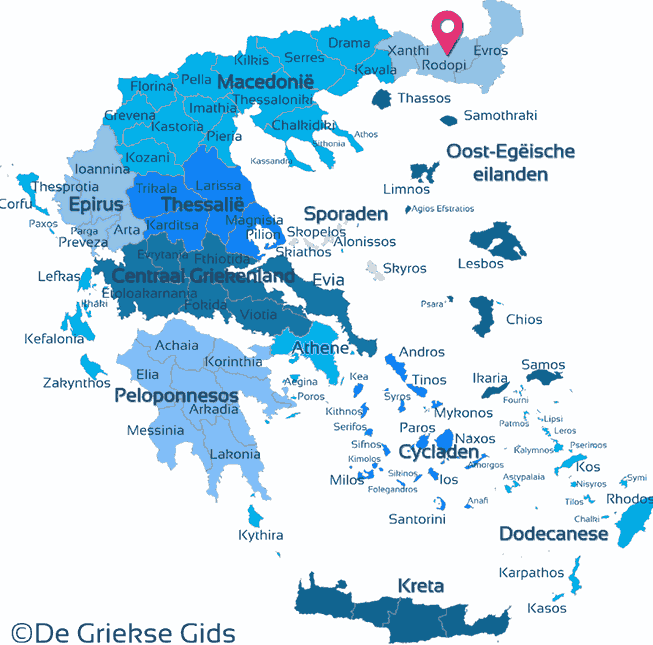 The map of Rodopi - ©JustGreece.com