Paxos - Ionian Islands (Greece)
Paxos or Paxi. Paxos and Antipaxos are two small islands south of Corfu and west of the Greek mainland, Epirus. Paxos covers an area of 18 sq. kilometers (7 sq. miles) and has about 2.5k permanent residents.
It is a very green island full of olive trees and pines, sea caves, traditional villages and quiet beaches. Paxos is located about ten kilometers (6.2 mi) from Corfu and 12 kilometers (7.5 miles) from the coast of Epirus.
By boat, the island is accessible from various ports of Corfu and Epirus. Paxos has an elongated shape. The east coast is very steep with many high cliffs and caves, while the west coast is flatter.
The eastern part is the most impressive part of the island. Although Paxos has few inhabitants, it is very crowded in the summer. The international jet set has discovered the island, and several wealthy people and celebrities vacation here. Some have bought vacation homes here. Angelina Jolie, Keanu Reeves, Julia Roberts and Pamela Anderson are among the celebrities who have discovered the island.
The beaches on Paxos are similar, large or small, they are generally white pebble beaches with clear turquoise water. On the island are many beautiful beaches, these are often not accessible by car but rather by boat. Therefore it is not a bad idea to rent a small boat and sail around the island at your leisure. The length of coastline the entire island is just 20 kilometers (12 miles), which is so easy to do.
Photo Gallery Paxos - Photos of Ionian Islands
GAIOS
The capital of the island is Gaios. Gaios is the largest and most important port of the island. It lies in a bay protected by the small island of Agios Nikolaos is located ...read more»
LAKKA
In the north of the island is the town (village) Lakka. Lakka is located in a closed bay, about nine kilometers (5.5 mile) from Gaios. Here you will see a lot of sailing boats...read more»
LONGOS
Longos is surrounded by olive and pine trees, the village is located 5 kilometers (3 miles) north of Gaios. At the harbor you'll find many traditional restaurants. Here you can hire a boat ...read more»
Saturday

16°C
Sunday

15°C
Monday

16°C
Tuesday

18°C
Wednesday

18°C
Thursday

20°C
Average temperature Paxos
ANTIPAXOS (ANTIPAXI)
Antipaxos island: Antipaxos (Antipaxi) like Paxos is a beautiful green island. It is located about 4 kilometers (2.5 miles) from Paxi. The islet is practically uninhabited and claims it has about 50 permanent residents. The few hamlets are only visited in the summer. The most beautiful beaches are those of Voutoumi and Vrika. These are the beaches where the tourist boats stop to let the tourists swim. The colors are beautiful and in harmony: white beaches, turquoise waters, a fine-lined coast in combination with the clear blue Greek sky makes everything look magical.
Text: Jorgos and Wendy Nikolidakis - Text edited by Katrina Butzer
Paxos in other languages


Paxos: Where on the map is Paxos located?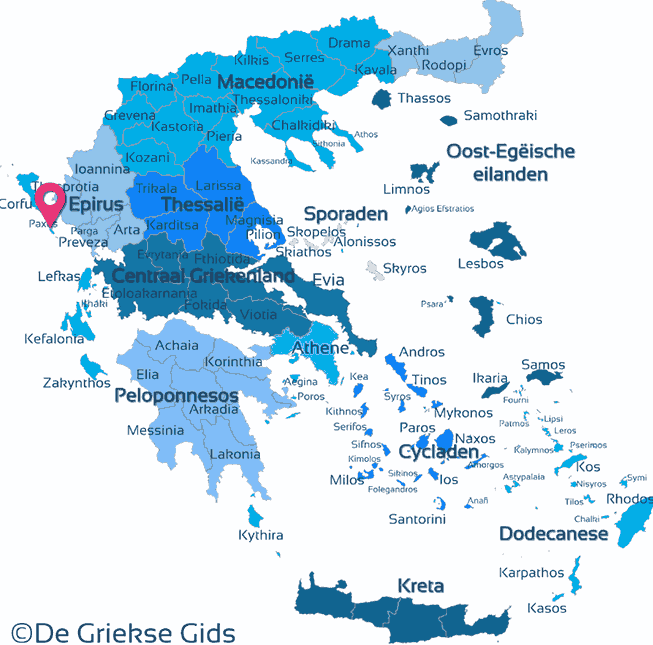 The map of Paxos - ©JustGreece.com