Ilia - Peloponnese (Greece)
Ilia (Elia). Ilia is one of the seven prefectures of the Peloponnese. Located in the northwest part of the Peloponnese, it borders to the north with the prefecture of Achaia, to the east with the prefecture of Arcadia, to the south to Messenia. To the west it borders to the Ionian Sea. The ground of the prefecture is basically flat especially the western part, here are many intensively cultivated fields. The plain of Ilia is the largest in the Peloponnese. The mountainous terrain of Ilia is located in the northeast and east area of the prefecture, here are the mounatins Erimanthos (2129 meters) and Lampeia (1797 meters) situated.
The level of the coast is low, there are long sandy beaches and also lagoons. Near Kyparissia is the Kaiafas Lagoon located and in the northwest coast the lagoon Katochi. The main capes are the Akrotiri Katakolon and the cape of Kyllini.
The prefecture of Ilia is one of the most fertile regions in Greece. The economy is fairly rural, here are cereals, rice, dried grapes, cotton, citrus fruits, oil, vegetables and legumes cultivated. Also tourism contributes significantly to the economy of the prefecture, for example the archaeological site of Olympia brings every year thousands of tourists to the region.
In Ilia are also the thermal springs of Kyllini, the mineral springs of Kaiafas and many beautiful beaches. Key centers of Ilia are the capital Pyrgos, the town Amaliada and the villages of Andritsena, Gastotuni, Andravida and Lechaina.
Photo Gallery Ilia - Photos of Peloponnese
Sights Prefecture Ilia

Olympia
Olympia. In Olympia every four years were in the summer Olympics held, which since 776 BC. the names of the victors are recorded. Read more»

Pyrgos (Pirgos).
Pyrgos is the capital of the prefecture of Ilia. The town owes its name to the presence of a high tower (Pyrgos) established by Ionnia Tsernotas. Read more»

Amaliada (Amalias)
Amaliada is the name of a new city built in the middle of an emerald green field with olive trees and vines. The Monastery of Franka Villa, built during. Read more»

Text: Yorgos and Wendy Nikolidakis - Revised by Maxine van Hoften Gee
Saturday

16°C
Sunday

14°C
Monday

17°C
Tuesday

17°C
Wednesday

19°C
Thursday

21°C
Foto's Ilia - Ilia in beeld
Ilia in other languages


Ilia: Where on the map is Ilia located?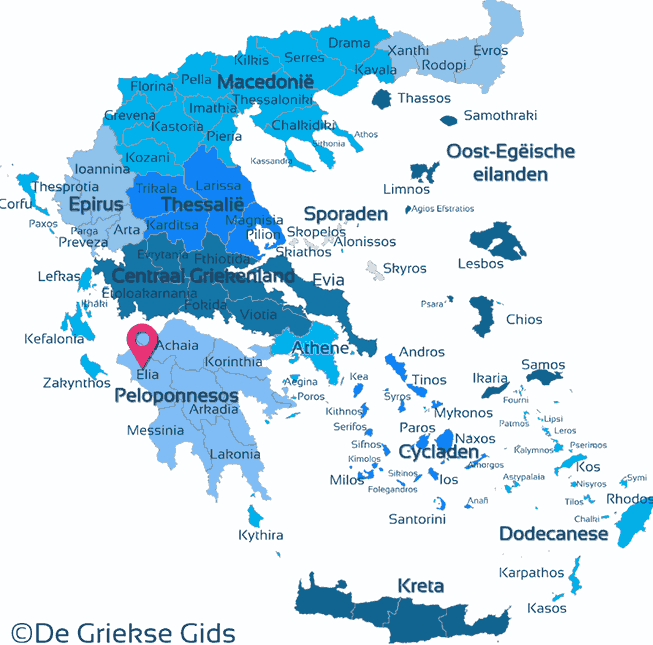 The map of Ilia - ©JustGreece.com