Fthiotida - Central Greece (Greece)
Fthiotida. Fthiotida is situated in the region of Central Greece, west of prefecture Euboea and south of region Thessaly. The capital of Fthiotida (Fthiotis) is the town of Lamia (220 kilometers (137 miles northwest of Athens). This town is located southwest of the wooded mountain Othri, right on the banks of the river Sperchios.
Fthiotida is also called the cradle of Amphictyonies. The Amphictyonic league was an ancient religious association of Greek tribes. The nature is impressive. There are beautiful lakes, verdant mountains, impressive canyons, a fascinating coastline, and fantastic forests.
Further enhancing the environment are ancient monuments, historical monasteries and churches.
16 kilometers (10 miles) southeast of Lamia is "Thermopyles," which literally means "hot gates." That name is derived from hot springs that are located here. In ancient times, this was the name of a narrow pass between the mountains and the Kallidromos Maliakos gulf. In 480 BC, an historic battle took place here, the battle of Thermopyles. This famous war between the Greeks and Persians was brought back to life via film in 2007, in the film, "300," starring Gerard Butler and Lena Headey. The film is about Spartan King Leonidas, who along with 300 Spartans fights to the last man against Persian King Xerxes and his massive army. The battle of Thermopyles has gone down in Greek history as the impossible battle that demolished the huge army of Xerxes of Persia.
Photo Gallery Fthiotida - Photos of Central Greece
Sights in Fthiotida

The sources of Ypati and National Park Oiti (60 km/37 mi from Lamia). Ypati has a nice Byzantine museum. Also, the facilities for mountaineers are magnificent. There are several routes for climbers to enjoy.
The seaside towns of Agios Konstantinos and Arkitsa and the beautiful beach of Livanates.
The traditional mountain villages of Kallidromo.
The Agathonos monastery from the 15th century.
The beaches of Pelasgia and Achladi.

The Lamia Archaeological Museum with findings dating from the 8th millennium to Roman times.

Dafnousio is one of the most authentic villages of Fthiotida, and it has excellent beaches.

Elatia, the market town with interesting religious and historical sites.

The village of Amphiclia at the foot of Mount Parnassos. It is an ideal place for wanderers.

The ancient fortress of Kolakas in Pyrgos.

Mexiates: Macedonian tombs dating from the 3rd century B.C.

The Doric temple of Hyampolis, dating from the 6th century B.C.

The Mendenitsa castle, a Frankish castle dating from the 13th century A.D. (near Nikaia).
Text: Yorgos and Wendy Nikolidakis - Revised by Katrina Butzer
Weather forecast Fthiotida
Wednesday

19°C
Thursday

23°C
Friday

24°C
Saturday

25°C
Sunday

27°C
Monday

25°C
Average temperature Fthiotida
Fthiotida in other languages


Fthiotida: Where on the map is Fthiotida located?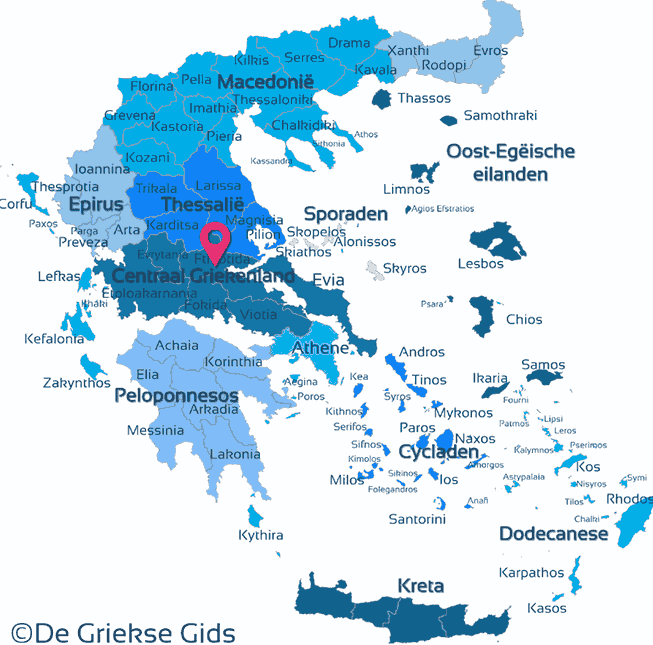 The map of Fthiotida - ©JustGreece.com