Viotia - Central Greece (Greece)
Prefecture Viotia (Boeotia or Beotia). Prefecture Viotia is located between the Gulf of Euboea and the Corinthian gulf, west of prefecture Attica. It is a mountainous area with lots of traditional villages, many green forests and outstanding beaches.
Capital of Viotia is Levadia (Livadia). Levadia is located 135 kilometers (84 miles) from Athens. The city is built between two hills at the edge of a gorge where the sources of Erkina flow.
On top of one of the hills, Profitis Ilias, is a well-preserved 14th century castle. In ancient times was it known as Levadia Mideia and was the site of the famous oracle of Zeus, Trofonios.
Levadia is very fertile thanks to the abundant water in the region and the two water sources immortalized in mythology, "Lethe" (forgetfulness) and "Mnemosyne" (remembrance). Passover is marked here by a very colorful celebration. The city is turned into a sort of open-air barbeque and lamb, roasted outside on a spit, is a specialty. Music, folk dancing and parties lasting all night, make the traditional Easter festivities in Levadia complete.
In ancient times Viotia was called "Tristhalatto" because of the three seas that bordered it, the North Euboean Gulf, the South Euboean Gulf and the Corinthian Gulf.
Viotia is a prefecture that is very popular in the winter because of the Parnassos ski center. A very nice resort located here is Arachova.
Photo Gallery Viotia - Photos of Central Greece
Sights in Viotia (Boetia or Beotia)
The Byzantine monastery of Osios Loukas, one of the most religious centers since the time of the Ottoman rule.
The town Platees where, in antiquity, the Greeks achieved a significant victory against the Persians.
The village of Distomo and the beaches Antikira and Aspra Spitia in the Corinthian gulf.
Beach Sarandi.

The Parnassos ski center: a very beautiful, well managed ski center.

The ruins of ancient Avlida where Agamemnon sacrificed his daughter, Ifigenia, to Goddess Artemis.

Arahova (Arachova), one of the most famous mountain villages in Greece. Arahova might be the most popular winter destination in Greece.
Text: Yorgos and Wendy Nikolidakis - Revised by Maxine van Katrina Butzer
Saturday

11°C
Sunday

13°C
Monday

14°C
Tuesday

17°C
Wednesday

18°C
Thursday

23°C
Average temperature Viotia
Viotia in other languages


Viotia: Where on the map is Viotia located?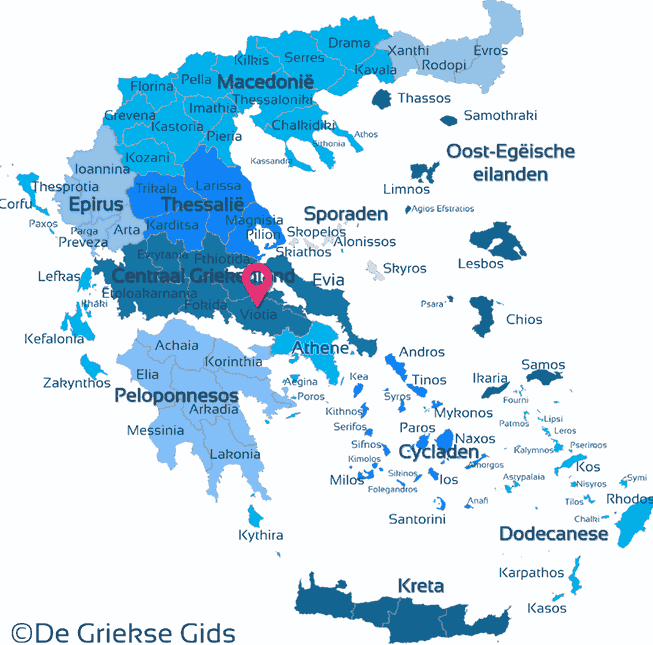 The map of Viotia - ©JustGreece.com