Aetoloakarnania - Central Greece (Greece)
Aetoloakarnania (Aetolia-Acarnania). The prefecture Aetoloakarnania is the westernmost prefecture of Central Greece. The first inhabitants of this region were the Kourites. According to Greek mythology, they were great warriors with prophetic powers. After them came the Aetolians and the Akarnians who lived next to each other, the border between their lands was the Acheloos River.
Today, Aetoloakarnania the largest prefecture of Greece. It is bordered to the north by the Gulf of Amvrakikos and the prefecture Arta (region Epirus). In the west, it is bordered by the Ionian Sea. The Gulf of Patras is in the south and in the west are the prefectures of Evrytania and Fokida. It covers an area of 5,447 square kilometers (2,103 square miles). Less than 20% of the area is flat; high and low mountains cover the rest of the surface. The capital of Aetoloakarnania is the historical town Messolonghi, other important towns are Aktion, Nafpaktos and the economical center Agrinio.
Through the surface of Aetoloakarnania run three of the longest rivers of Greece (Acheloos, Mornos and Evinos). Trichonida, the largest lake of Greece with a surface of 96 square kilometers (37 square miles), is located there as are more lakes, six natural and three artificial. The highest mountain of the prefecture is the Panetolikon (1,924 meters/6,312 feet). The other highest mountains are the Akarnian mountains in the west, the Valtos mountains in the northwest, the Nafpaktia mountains in the southeast and Aracynthos mountain in the south.
Photo Gallery Aetoloakarnania - Photos of Central Greece
more photos of Aetoloakarnania»


Sights Aetoloakarnania
The Tomb of Calydon: Calydon was an ancient Greek city that took its name from its founder Calydon. Here you can find the Heroon of Calydon that is considered to be the tomb the Aetolian Hero Leon of Calydon (100 BC).
The Sanctuary of Artemis, known as Laphrion. This was the most important Aetolian sanctuary dedicated to the Greek Gods Artemis and Apollo.
The temple of Zeus Stratios at the northwest end of the town Agrinio. The temple is built on the top of a fortified hill.
The Papastratio archaeological museum in Agrinio. You can see finds ranging from the Prehistoric to the Roman Period.
The beautiful shores and naturally formed coves at the western coastline along the Ioanian Sea.
The beautiful mountains and the verdant valleys with their impressive forests. Visit the riversite Fraxos forest and the oak-tree forest of Manina.
The fantastic lakes and rivers
The picturesque town of Astakos
The Byzantine church of Panaxiotissa that was built in the 10th century
The wetlands of Aetoloakarnania
Text: Yorgos and Wendy Nikolidakis - Revised by Katrina Butzer
Weather forecast Aetoloakarnania
Saturday

11°C
Sunday

13°C
Monday

14°C
Tuesday

17°C
Wednesday

18°C
Thursday

23°C
Average temperature Aetoloakarnania
Aetoloakarnania in other languages


Aetoloakarnania: Where on the map is Aetoloakarnania located?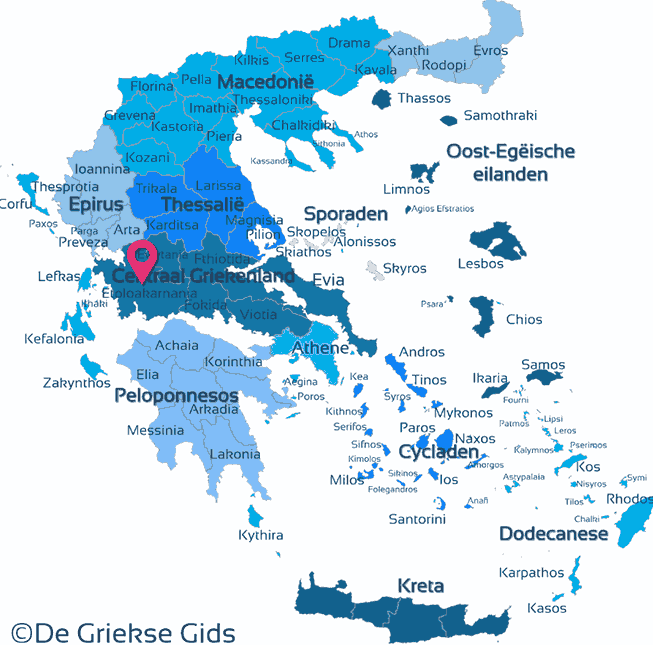 The map of Aetoloakarnania - ©JustGreece.com