Exomvourgo - Tinos (Greece)
Exomvourgo. Exomvourgo was the name of one of the two provinces of the island of Tinos in the period 1999 to 2010 (the other being called Tinos). This particular name came from the big rock on the hill in the heart of the former province. On this hill stood the ancient city of Tinos, where the Acropolis of Tinos was built in the fifth century BC.
The history of this rock, however, goes much further back to the Bronze Age when the Cyclopean walls were built. In the year 1207 the Gizi brothers conquered the rock and called it "the castle of Saint Helena," named after the small chapel of St. Helena on the rock.
In the year 1390 the Venetians came, and not far from the rock they built the Venetian Burgundy. When the Turks conquered the island in the year 1715, and gave the area its present name, Exomvourgo.
Another name of Exomvourgo is Xombourgo, derived from the Venetian word Sobborgo that means "near the castle." Most residents of this municipality are Catholic. Exomvourgo is second only to Ano Syros on the Cycladic island of Syros, in terms of Catholic population. This is remarkable, because in Greece most people are Greek Orthodox.

The rock of Exomvourgo is a paradise for rock climbers, both beginners and advanced climbers. The highest peak of Exomvourgo is 641 meters (2,100 ft), which is perhaps the most imposing landmark of the island. You can walk there from the Monastery Iera Kardia (Sacre Coeur - Sacred Heart Convent) east of the rock.
Text: Yorgos and Wendy Nikolidakis - Edited by Katrina Butzer
Photo Gallery Exomvourgo - Photos of Exomvourgo
Weather forecast Exomvourgo (Tinos)
Saturday

29°C
Sunday

30°C
Monday

28°C
Tuesday

26°C
Wednesday

25°C
Thursday

25°C
Average temperature Exomvourgo
Exomvourgo in other languages


Tinos: Where on the map is Exomvourgo located?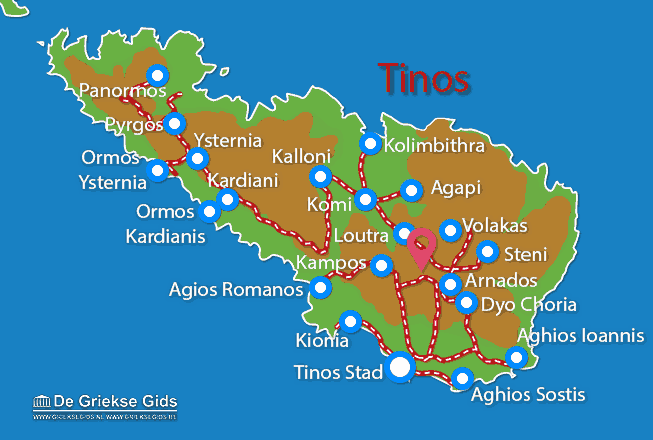 The map of Tinos (©JustGreece.com)