Chios town - Chios (Greece)
Chios town. Chios town is the capital of the Greek island of Chios. The Greeks, call their city also Chora. The city is centrally located in the east of the island, near the Turkish peninsula Cesme and has about thirty thousand inhabitants today.
Chios Town is built on top of the ancient city, unfortunately there is not much left of the old city. Due to its strategic location, the city has traditionally played an important role in history, due to its location on the narrow passageway opposite the coast of Asia. It was a vibrant city with a large harbour, where as many as eighty ships could dock. At the city was a large theatre and a huge temple dedicated to the Greek goddess Athena.
From the Byzantine period, little is known about the city, the construction of the castle started and later this fortress was reinforced by the Genoese.
Later the Ottomans came and they would ensure the black page in the history of Chios. In the year of 1822 the revolt of the Greeks was suppressed. The city was completely ruined and the Greek inhabitants were massacred. The "massacre of the Greeks" took place, it was the killing of tens of thousands of Greeks on the island of Chios by Ottoman troops during the Greek War of Independence in 1822. The massacre provoked international outrage, and led to increasing support for the Greek cause worldwide.
This event had a great impact on Europe as Eugene Delacroix painted the painting "Le Massacre de Chios" which is still on display at the Louvre in Paris. The replica of this painting was in the museum of Chios until 2009 when the municipality decided to remove it as a goodwill gesture to their Turkish neighbours.
Chios town was rebuilt in the 19th and 20th centuries. The Neoclassical buildings clearly shows the influence of the architecture of the city of Izmir (Smyrna). Chios Town is today a modern city, with the influences of the past. At the harbour there are many stores, shops, restaurants, bars and cafés, it is the most crowded area of ​​the city. North of the city is the castle and close by the much photographed old mills are located.
Text: Yorgos and Wendy Nikolidakis - Revised by Maxine van Hoften Gee
Photo Gallery Chios town - Photos of Chios town
Weather forecast Chios town (Chios)
Friday

21°C
Saturday

22°C
Sunday

22°C
Monday

20°C
Tuesday

18°C
Wednesday

18°C
Average temperature Chios town
Chios town in other languages


Chios: Where on the map is Chios town located?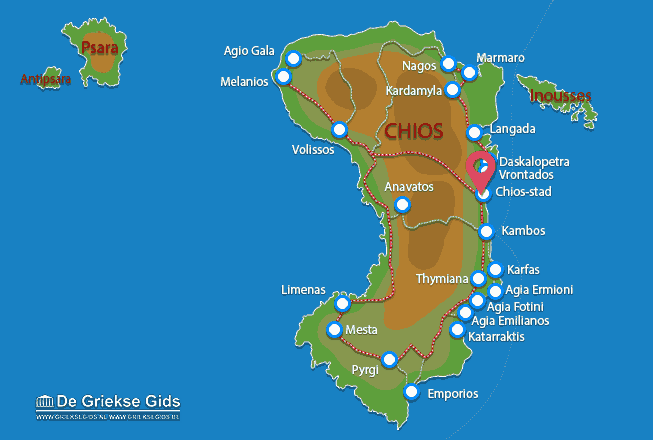 The map of Chios (©JustGreece.com)