Filerimos - Rhodes (Greece)
Filerimos. Filerimos is a hill south of the village of Ialyssos (Trianda) on the Greek island of Rhodes. An ancient city and the Acropolis of Ialyssos (Temple of Athena Polias and Zeus Polias) were located here. In the early Christian period, the Church of Mother of God and a baptistery were built here. When the Knights of the Order of St. John occupied the island in the 1300s and 1400s AD, they built the Byzantine church, a Catholic church and a monastery.
The icon of the Holy Mother Mary made by Apostle Luke was kept in the church. The icon now on display in the church is a replica. After the Turkish occupation, the original icon traveled through Malta and Russia and was brought to the museum Cetinje in Montenegro where it is still visible today. During the 400 years of Turkish occupation, which ended in 1912, the monastery was destroyed by the Turks and was only restored at the beginning of the twentieth century, during the Italian occupation of Rhodes.
Opposite the monastery is a road with tall trees at both sides. When you walk this path you'll reach the 18-meter high cross that stands here. The road is called "the way to Golgotha." On the right side of the road are monuments that depict the Passion of Christ. From the cross you will have excellent views over the Aegean Sea to Turkey.
On Filerimos many archaeological discoveries have been found which date from the 5th though 3rd century BC. Most of the objects are now in the British Museum and the Louvre. In the ancient Greek world Ialyssos was known for its hero Diagoras who was an Olympic winner several times. Hence the airport of Rhodes is named Diagoras airport.
Photo Gallery Filerimos - Photos of Filerimos
Weather forecast Filerimos (Rhodes)
Saturday

34°C
Sunday

33°C
Monday

32°C
Tuesday

30°C
Wednesday

29°C
Thursday

28°C
Average temperature Filerimos
Filerimos in other languages


Rhodes: Where on the map is Filerimos located?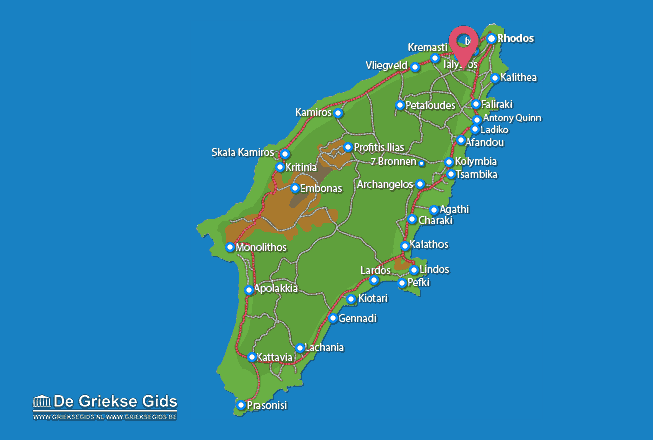 The map of Rhodes (©JustGreece.com)