Heraklion City - Heraklion Prefecture (Greece)
HERAKLION. Heraklion is the capital of the Greek island of Crete. It is centrally located on the north coast of the island. Heraklion is one of the largest cities of Greece and the airport has the largest charter capacity in the whole country. It is a vibrant city. With its central location, good transport links with the mainland of Greece and with Europe and the presence of many hotels, Iraklion is usually the starting point of a Cretan trip. The city offers a lot of variety; busy shopping streets, many terraces on squares, a colourful daily market and of course tavernas with Cretan specialties. Although at first glance the noisy and dusty atmosphere of the city can provide a little setback, Heraklion is a city with character. Take a stroll along the harbour, the old Venetian walls, the lively market, the shops, the Morosini fountain, beautiful churches, such as Agios Minas and Agios Titos, the great freedom square and the impressive archaeological museum and you will agree with me that Heraklion is a beautiful city that's alive. The fact that the city is partly governed by tourism does not alter this conclusion. From Iraklion buses depart to almost every destination on the island, so the city is a good starting point for tours. Obviously, you should not miss Knossos if you are in Heraklion.
Photo Gallery Heraklion Prefecture - Photos of Heraklion Prefecture

more photos of Heraklion Prefecture»


History of Heraklion
The ancient Greeks called this place Herakleion, because according to the legend, Hercules landed here to perform one of his heroics. The city was founded in 824 by the Arabs as Kandak. The Byzantines liberated Crete in 961, after which the city was called Chandax. Under the reign of the Venetians (1204-1669), the city was called Candia, the name they also used for the whole island. During this time was the inner harbour and the fort, the loggia, several churches, the fountain and the great fortress walls. In 1669 the city fell into the hands of the Turks, who named the city Megalo Kastro. Thus began a period of economic and cultural decline, a time of oppression and resistance. In 1832 the city was renamed Heraklion, after unification with Greece. An earthquake in 1926 and the second world war destroyed much of the old city. In 1971 Heraklion became the capital of Crete (Chania previously had been that). Today, Heraklion, except administrative, trade and traffic centre is also the main tourist town on the island of Crete.
Text: Yorgos and Wendy Nikolidakis - Revised by Maxine van Hoften Gee
Weather forecast Heraklion City (Heraklion Prefecture)
Friday

30°C
Saturday

31°C
Sunday

31°C
Monday

28°C
Tuesday

27°C
Wednesday

26°C
Average temperature Heraklion City
Heraklion City in other languages


Heraklion Prefecture: Where on the map is Heraklion City located?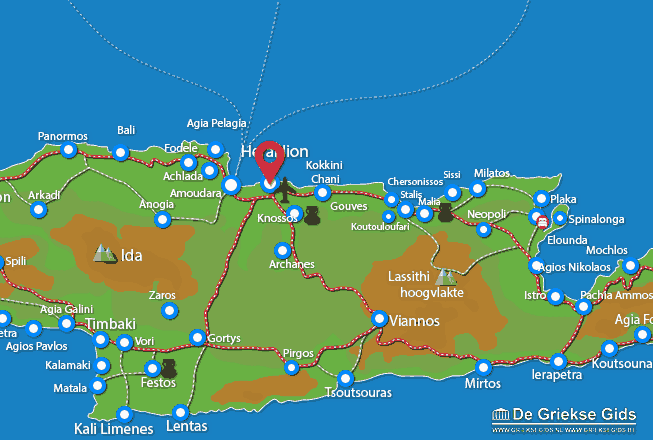 The map of Heraklion Prefecture (©JustGreece.com)