Monastery of Odigitria - Heraklion Prefecture (Greece)
Odigitria monastery. The monastery of Odigitria is one of the most famous monasteries of southern Crete. It is reached via the village Sivas, located between Mires and Matala. The road is paved and runs through the Asterousia mountains, the area is full of olive trees. It was founded in the 14th century, although in 1393 it was mentioned in the books of the Ducat Chandakas (Heraklion city). Belonging to this monastery are various churches in the surrounding area. In these churches, but especially in the church of Odigitria itself, many historical and valuable paintings can be seen. Around the monastery there was once a high wall to defend against attacks by pirates and barbarians. The monastery of Odigitrua played a major role in the resistance against the Ottoman ruler of Crete in the 17th century. Leader of the opposition at that time the Greek priest Xopateras. Xopateras would have become a priest from heartbreak, because he could not marry his beloved. The Turks, however, did not appreciate the opposition and the monastery was often attacked. At that time there was a bloodthirsty tyrant named Argolidis. He had converted to Islam and killed anyone who did not listen to his orders. Eventually it was Xopateras who killed him. However, the revenge of the Turks was immense; with 3.000 soldiers, they travelled to Odigitria to capture Xopateras. For three days he fought against the Turks along with ten others. Eventually, the Turks established fire and killed everyone in the monastery. Finally Xopateras tried single-handedly to fight with everyone, holding in one hand a gun and in the other hand a sword. Eventually he was shot and then beheaded. With the head on a tall spear the Turks proceeded to all the villages to show what they had done to Xopateras. During World War II, the monastery was destroyed, this time by the Germans because here secretly Greek soldiers and resistance fighters who were wounded were being treated. In the monastery, where five monks now live, is a museum. The museum contains all kinds of utensils of daily life from the 16th century to the present. For example, there is a loom, a mill, agricultural implements and other objects. Also, there is a traditional oven. If you are in Odigitria and like hiking, south of the monastery is the gorge Agiofaragko. This gorge is a good walk finishing on the shore . In the gorge is the church of Agios Antonios, it was a place where many monks stayed previously.
Text: Yorgos and Wendy Nikolidakis - Revised by Maxine van Hoften Gee
Photo Gallery Heraklion Prefecture - Photos of Heraklion Prefecture

more photos of Heraklion Prefecture»


Weather forecast Monastery of Odigitria (Heraklion Prefecture)
Saturday

17°C
Sunday

18°C
Monday

17°C
Tuesday

20°C
Wednesday

21°C
Thursday

24°C
Average temperature Monastery of Odigitria
Monastery of Odigitria in other languages


Heraklion Prefecture: Where on the map is Monastery of Odigitria located?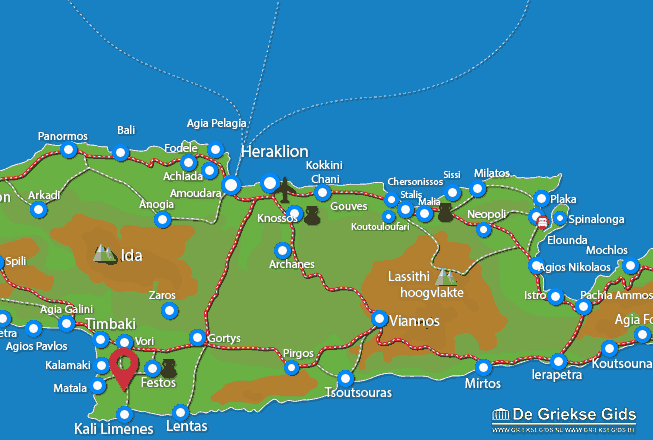 The map of Heraklion Prefecture (©JustGreece.com)